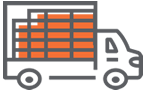 TRUCKLOAD FREIGHT SOLUTIONS THAT DELIVER CONFIDENCE
Our FTL services merge high-tech solutions with a human touch for a job done right every time. This complete approach starts with a dedicated, local representative who learns about your needs and then delivers a carrier solution that delivers on-time and on budget. And our numbers back it up: Every day, we follow through with our customers to account for every detail, across nearly 6 million annual shipments.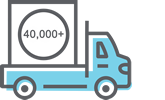 Local Services Designed To Your Needs
With our vast network of nearly 85,000 high-caliber partners, we're able to provide you local service options that carefully and skillfully manage your shipment needs from start to finish. So you get solutions that can respond to your needs quickly, easily and efficiently — with the unmatched level of service that we've built our reputation on.

Complete Cost Clarity
Your business should never be surprised by hidden fees for your FTL shipments. That's why you only pay for your transportation and nothing more. It's just one part of our commitment to being a long-term partner and avoiding unnecessary rate increases for your business.