Get Top UPS® Rates and Streamline Parcel Shipping With Worldwide Express
Small-to-medium-sized business (SMB) owners can attempt to manage parcel shipping by themselves. But it certainly can benefit their bottom line if they have an expert shipping partner to help them. That's why there are many advantages of working with a third-party logistics (3PL) provider like Worldwide Express. In particular, SMBs can save money on UPS shipping rates and receive strategic guidance on which services are the best fit for their shipping operations.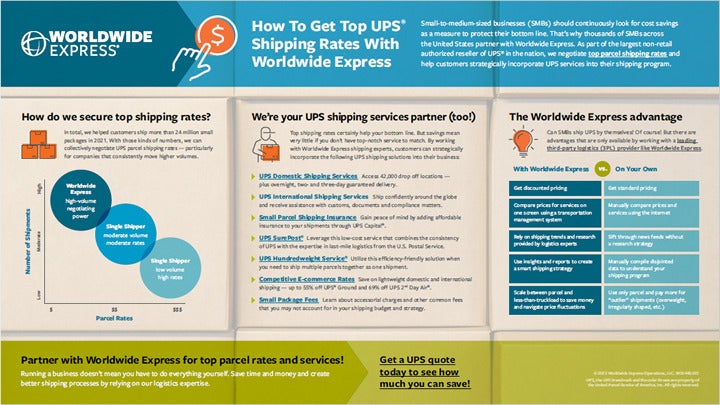 Save on UPS shipping rates and services
In our infographic, How To Get Better UPS® Rates for Shipping With Worldwide Express, we explain in detail how our customers benefit from partnering with a 3PL like us. That includes the positive impact on your bottom line through operational efficiency and savings on parcel shipping rates. You will learn how we:
Negotiate UPS rates for shipping through the buying power of 24 million+ annual packages.

Help shippers move higher volumes for additional discounts.

Incorporate a variety of parcel services into a shipping strategy.

Use our expertise and experience to streamline shipping operations.
Are you ready to save money and streamline parcel shipping?
Worldwide Express understands UPS shipping for SMBs. As one of the few full-service 3PLs in the industry, we use our expertise and more than 30 years of experience to design shipping strategies that address your unique logistics challenges.
Download our UPS shipping rates guide to learn how we can help you navigate the sometimes rocky and challenging world of small package shipping. Get a UPS quote today to learn how you can save!