Give Eco-Friendly Packaging a Go
Most businesses don't approach their shipping operations with the goal of being "un-green," but the shipping industry does contribute heavily to waste and emissions worldwide.
While buyers have for decades been giving greater consideration to sustainable products and companies, everyone has the opportunity to make an impact on supply chain operations by considering eco-friendly shippingand packaging choices. And it doesn't have to break the bank.
Selecting eco-friendly shipping supplies is just part of the equation. By consolidating orders, choosing lighter packaging and optimizing box sizes, you could reduce your costs — all while gaining new eco-conscious customers.
And although Earth Day is only celebrated one day per year, you can create sustainable shipping practices that can make a big impact on your parcel shipping operations and your bottom line — every day.
Make sustainable packaging part of your strategy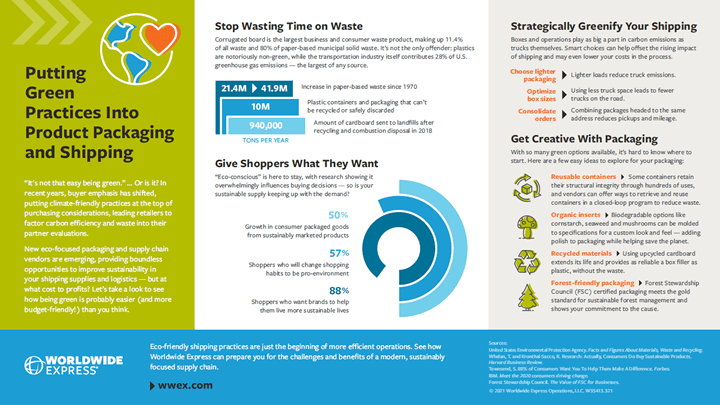 Check out our infographic to learn how sustainable packaging is an easy-to-implement practice for your supply chain. And when you're ready to give green a go with an EPA Smartway registered partner, reach out to Worldwide Express  and one of our shipping experts will help you build a parcel shipping strategy even a Mother (Earth) could love.
Sources:
United States Environmental Protection Agency. Facts and Figures About Materials, Waste and Recycling.
Whelan, T. and Kronthal-Sacco, R. Research: Actually, Consumers Do Buy Sustainable Products. Harvard Business Review.
Townsend, S. 88% of Consumers Want You To Help Them Make A Difference. Forbes.
IBM. Meet the 2020 consumers driving change.
Forest Stewardship Council. The Value of FSC for Businesses.