Safeguard Your Investments and Reputation With UPS® Insurance
The reality is that even the best carrier can't fully protect your shipment from getting lost, stolen or damaged in transit. In fact, more than 15% of small package shipments, regardless of carrier, experience a hiccup.1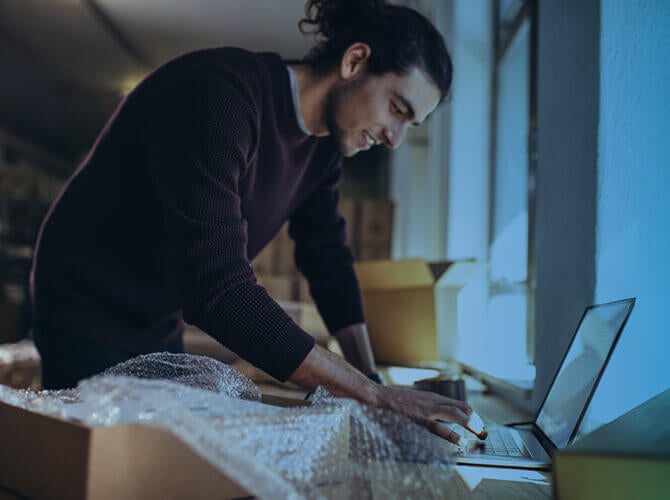 The fallout from these incidents isn't just financial — they also compromise your reputation and relationships with customers.
Protect yourself* with UPS insurance coverage from the small package insurance leader with UPS Capital®, and take advantage of:
Reimbursement for the full retail value of your goods — above-and-beyond the standard package insurance protection offered by most carriers

An efficient, simple claims process, with a dedicated team to answer all your questions regarding UPS shipping insurance

Peace of mind that your shipments are secure
Package insurance is recommended if the value of the shipment exceeds $100. If you do not declare a value for your shipment, the limitation of liability provided by UPS for your shipment is $100.
When you elect parcel insurance coverage through UPS Capital, you'll also benefit from:
Integrated billing
Charges will appear on your Worldwide Express invoice,so you can easily allocate cost for your shipments.
No upfront costs
You can select your UPS insurance coverage options when you create your shipment, with no upfront charges or deposits required.
Ease of use
Add coverage to your shipments without going through additional processes. Simply check the coverage box in SpeedShip® and you're done.
File Claims fast
With a simple and efficient claims process, you submit your documentation right inside our SpeedShip transportation management system and the Worldwide Express claims team will work to get you the resolution you need without the headache you don't.
Specialty Services
From protecting precious gemstones and jewelry to ensuring your perishable goods are shipped at temperatures to prevent spoilage, UPS Capital has extensive shipping insurance options for your specific requirements.
Explore additional parcel resources
UPS Package Shipping Insurance Made Easy
Shipping insurance can be complex. We specialize in simplifying shipping operations for small to mid-sized businesses. Get a consultation today to discuss your parcel insurance and shipping needs.
1 UPS Capital Carrier Liability Research Study, 2018
UPS, the UPS Brandmark, and the color brown are trademarks of United Parcel Service of America, Inc. All rights reserved.
*Insurance coverage is underwritten by an authorized insurance company and issued through licensed insurance producers affiliated with UPS Capital Insurance Agency, Inc., and other affiliated insurance agencies. UPS Capital Insurance Agency, Inc. and its licensed affiliates are wholly owned subsidiaries of UPS Capital Corporation. The insurance company, UPS Capital Insurance Agency, Inc. and its licensed affiliates reserve the right to change or cancel the program at any time. Insurance coverage is governed by the terms, conditions, limitations and exclusions set forth in the applicable insurance policy. No warranty, guarantee, or representation, either express or implied, is made as to the correctness or sufficiency of any information contained herein. Coverage is not available in all jurisdictions.