5 REASONS TO CONSIDER AN ECOMMERCE 3PL
On one hand, it seems like a simple proposition. Open an e-commerce shop and you open up connections to customers around the globe. But launching a digital storefront is only part of the equation. To keep customers happy — and keep them coming back — you need to provide quality products and quality service.
And shipping plays what might be the most critical role when it comes to e-commerce service. Today's customers expect lightning-quick deliveries, frictionless returns, up-to-minute visibility into their packages' progress and more.
All of that clamps a lot of pressure on the average SMB e-commerce operator. How can you run your business and manage small package and/or freight shipping at the same time? Both can be full-time jobs in themselves.
The right partner can help. And a 3PL like Worldwide Express can be an ideal partner for an SMB. This infographic offers five tangible ways we can work with you to streamline and optimize your e-commerce shipping operations — so you can keep your focus on running your business.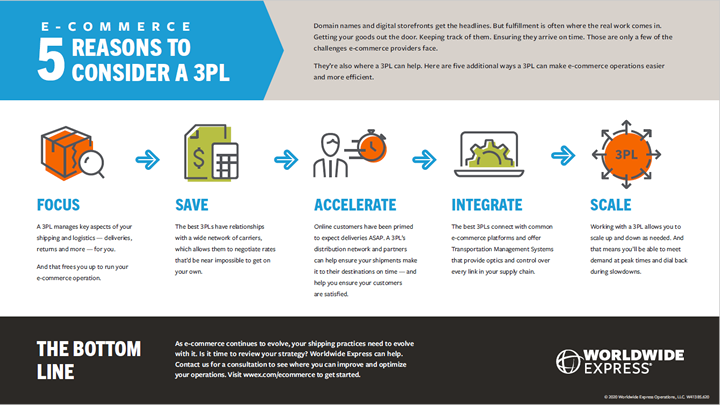 With Worldwide Express you'll get smart, time- and cost-saving ideas like using UPS SurePost® for your lightweight business-to-consumer (B2C) ground shipments. Need it there fast, without cost-prohibitive service? Check out how our UPS e-commerce rates can help you save on express shipping services and more economical ground service.
Ready to add an ecommerce 3PL to your shipping strategy?
Schedule a custom shipping consultation today, and let Worldwide Express help you uncover smart solutions for your e-commerce shipping needs.