The Parcel Shipping Tool That Helps You Deliver More
We understand that cost savings and shipping efficiency is your everything. That's why we built SpeedShip® to deliver powerful shipping solutions within an intuitive and easy-to-use platform. Our TMS system can be tailored to your business' unique needs, helping you quickly create UPS shipments and manage them from start to finish. Plus, we're ready to get you set-up in a snap — we'll even transfer your address book from your current shipping platform so you can experience the SpeedShip difference right away.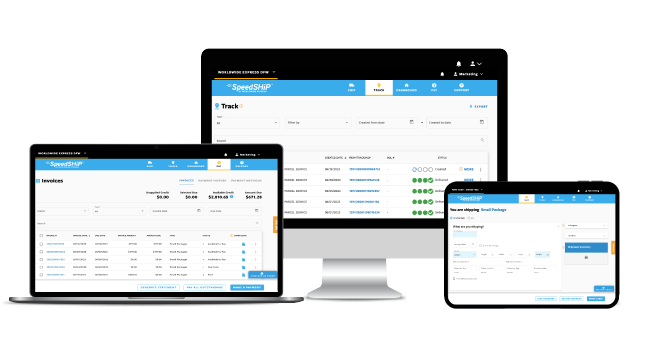 Here are more advantages of using SpeedShip for your UPS® shipments:
Quickly compare rates and transit times for your small packages and select additional services for your shipment's individual delivery needs
Add small package insurance through UPS Capital®
Use single login for UPS small package and LTL freight
View detailed shipment tracking and real-time visibility
Default handling charges to turn shipping into a profit center for your business
Access account dashboard with dynamic shipment data
Leverage tools for easy claims and dispute filing
Cost-allocate your shipment to ease your back-end accounting burden
Store package and product lists to reduce shipping time on frequently replicated shipments
Create and email shipping labels to third parties, including customer return labels
Get live chat support when you need answers now.
Set email notifications for when a label is created, a package encounters an exception, or a delivery occurs
E-commerce Solutions that Make Shipping Easier
E-commerce shippers like you benefit from SpeedShip integrations that save time and money. Specifically, our RESTful Web Service API allows SpeedShip to connect with your custom-built TMS, warehouse management system or ERP platform, providing you with a streamlined shipping experience. It also allows you to show real-time rates within Magento, Shopify and WooCommerce shopping cart plugins at the point of sale. SpeedShip makes shipping easy for you and your customers!
Ready to learn more and start shipping smarter? Reach out to our shipping experts.