Make Worldwide Connections with Worldwide Express
We pride ourselves on our unbeatable track record of connecting shippers like you with the best international freight shipping solutions to meet your unique business needs. Ship freight by ocean or air to more than 220 countries and territories, as well as cross-border solutions to, from and throughout Mexico and Canada. At Worldwide Express, we'll connect you with reliable carriers for both sides of the shipping journey and can assist you with packaging and crating services no matter your international freight shipping needs. Whether you're exploring new markets for the first time or trying to overcome customs complications, you'll gain a competitive advantage from our years of international experience, best-in-class customer support and innovative technologies.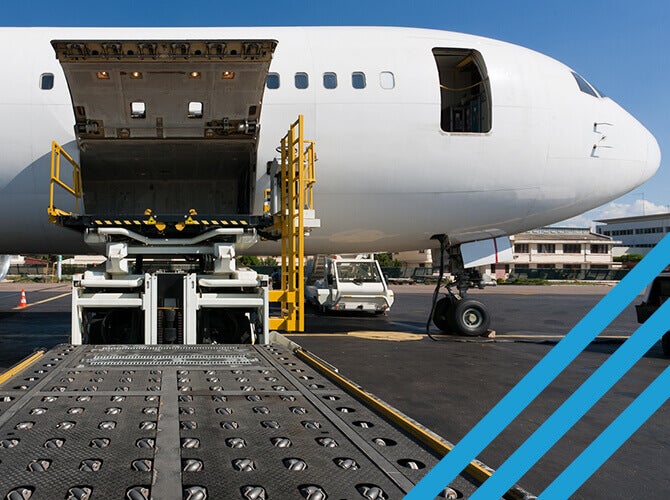 Explore New Heights with International Air Freight
Our full suite of international air freight shipping options fit every schedule and budget, including high-value shipments, or for shipments that are time or temperature sensitive. We work with a variety of air freight carriers that offer expedited import and export services: overnight, or one-, two- and three-day shipping.
A Freighter aircraft has large doors for loading and unloading larger cargo and are generally a more affordable option.
A charter plane offers tailor-made solutions for shipping cargo on demand. This option allows for more flexibility in terms of shipment time but will likely cost more than other solutions.
Deferred air freight shipments wait to ship your freight until cargo space is available with other customers' shipments. You'll receive negotiated rates, but limited flexibility with your delivery time.
Weekly scheduled air freight consolidates your routine shipments with other customers' freight and operates on a set schedule and is cost-efficient.
Discover the benefits of air freight services and when to use them.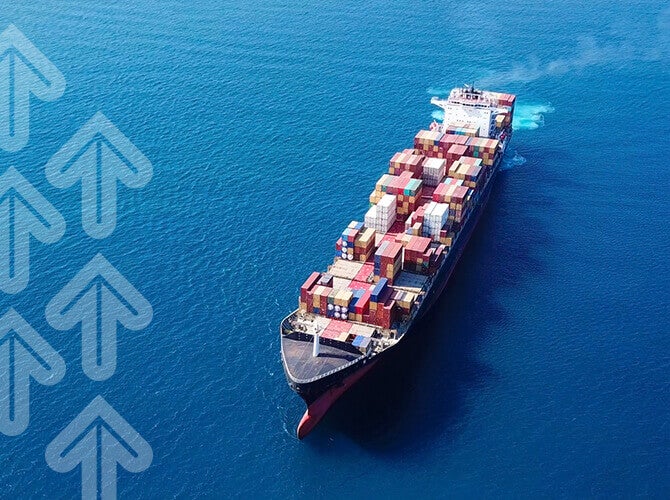 Make Waves in the Market with Ocean Freight Services
Looking to ship internationally and have some extra time on your hands? Ocean freight shipping is a great cost-savings option for shipments with more lenient timing. With a network of select ocean freight carriers ship from all major and smaller water ports, we can accommodate for all size and types of vessels and freight shipping containers. Our freight dock handlers are equipped to navigate any issues at the ports, while the over-the-road carriers are ready to move your ocean freight shipments to and from the port at any level of transport you need.
Cross-border Freight Solutions to Push Your Shipping Boundaries
Whether you're looking to import, export or do a little of both, our tried and true cross-border freight shipping solutions can be customized to fit your unique business needs.
Learn more about our cross-border shipping solutions.
Cross-border freight shipping to Mexico
With a dedicated team of experienced, bilingual shipping experts at the border and throughout the country, we take the stress out of shipping to, from and across Mexico. No matter your unique shipping needs, cross-border freight solutions from Worldwide Express allow you to utilize our best-in-class tools and reliable carrier network, including:
Cross-border CTPAT-certified carriers that provide direct-to-door and cross-dock capabilities at all major U.S. and Mexico border locations

Direct trailer and equipment for intra-Mexico door-to-door delivery

B-1 drivers for direct Mexico-to-U.S. and Mexico-to-Canada shipping

Industry-leading technology and regional expertise that provide for greater visibility of market trends and of your shipments in general
Cross-border freight shipping to Canada
Our network of trusted freight carriers deliver directly to destinations in Canada without requiring a transfer of goods, providing added safety for your shipments and allowing you more peace of mind. Choose from a variety of cross-border freight services spanning all your expedited, specialized and heavy-haul shipping needs.
Support and Resources to Keep You on Track
Rest easy with real-time data about your cargo across every stage — including vessel booking, port departures and arrivals, drayage and ETAs. Plus, with SpeedShip® — our high-performing transportation management system (TMS) — you can quickly compare international shipping quotes so you can choose the options that best suit your needs. For high-value international shipment peace of mind, use our TMS to add liability coverage for all your valuable shipments. Partner that with our best-in-class support from global logistics experts, and you've got the recipe for international shipping success!
International Freight Services to Fit Your Business
No matter where or how often you ship, our logistics experts and support team will guide you through the process of choosing top international freight shipping services. Ready to start your worldwide shipping journey?